Staff
About Our Staff
All of our professionals at Central Connecticut Footcare Center, LLC maintain the highest levels of accreditation and pursue ongoing education to stay abreast of the latest trends in podiatry.
---
Dr. Tina A. Boucher, DPM
Dr. Tina A. Boucher, was born and raised in Meriden, CT where she owns Central Connecticut Foot Care Center, LLC. Dr. Boucher graduated from Platt High School in 1990 (6th in her class) and went on to study psychology at McGill University in Montreal, Canada, where she graduated with a Bachelor of Science in Psychology and Pre-Med. After working in the corporate world in Stamford, CT for several years, she left to go back to medical school. She received her Doctor of Podiatric Medicine from Temple University in Philadelphia in 2002.
During her three year advanced (Podiatric Medicine and Surgery- 36 months) residency at Benedictine Hospital in Kingston, NY, Dr. Boucher successfully performed more than 900 foot and ankle procedures. Dr. Boucher served as chief surgical resident for two years. Dr. Boucher is also certified in ankle arthroscopy techniques. She is licensed to perform podiatric medicine and surgery in Connecticut. Dr. Boucher is affiliated with MidState Medical Center in Meriden, CT and The Hospital of Central Connecticut in Southington and New Britain, CT. She has lectured on foot and ankle pathologies and is dedicated to learning through various continuing education seminars and journals. A dancer herself, Dr. Boucher's special interest in the field of podiatry is dance podiatry.
She has been recognized by the Metropolitan's Who's Who and Cambridge's Who's Who for excellence in her field.
Dr. Boucher is a Meriden native that lives in Cheshire where she loves to spend time with friends and family. Especially, her husband Kevin, and her two children: Allison and Ryan. As a family, they love to watch Allison dance, Ryan play ice hockey and both children play premier soccer. She is also very close with her nieces: Peyton, Sophie, Sadie, Mackenzie and Madison.
Dr. Boucher can be reached at [email protected].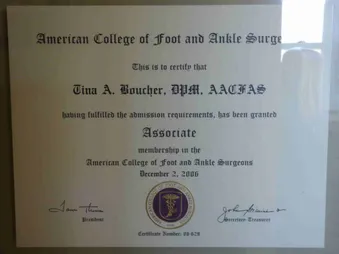 ---
Meet Our Staff
Coming Soon!